It is never easy to blow your own trumpet – so here is what others have said about us during 2019.
Unique
The International Traveller correctly identifies Donegal as one of Ireland's most picturesque regions.
They featured Portsalon Luxury Camping as one of just seven of the best unique places to stay in the whole of Ireland and suggest that this is 'camping for people who don't do camping'! If that sounds like you, why not try us out in 2020.
Unique and Quirky
We rather like our description here as 'unique and quirky'!
This article by the Irish Road Trip includes 27 places around Ireland where you can try out 'Glamping' this year.
27 of the most Unique and Quirky Places to go Glamping in Ireland in 2020
The finer things in life
Wow – Red Bull have suggested that 'for those who prefer the finer things in life, Portsalon Luxury Camping has it in spades'!  Check out their selection of the eight best camping spots in Ireland below. Oh, and a big shout out to our wonderful photographer, Paul McGuckin. His excellent evening shot of 'Mulroy' yurt is the featured image for this article.
Consistently Excellent
We are very proud that our customers have given us consistently excellent reviews once again on TripAdvisor – for the fourth year running.
Did you know that only around 10% of businesses listed on TripAdvisor achieve the Certificate of Excellence? The Certificate is only gained by actual customers giving consistently high review ratings. It really is something to shout about! Thanks very much to all of our guests who have taken the time to record their experiences on the review site. Click on the TripAdvisor icon above to head over and take a look at what visitors to our site have to say about us.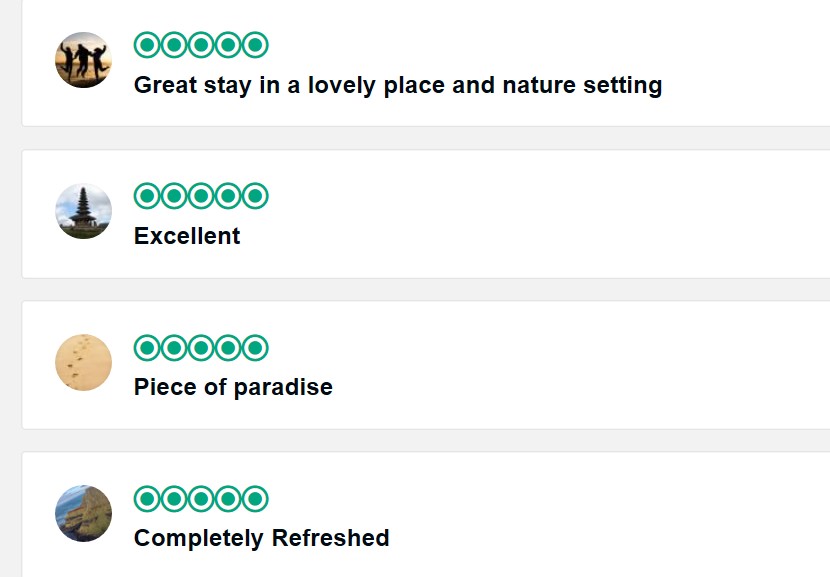 The 15 Best Campsites in Europe
We were pretty impressed when we saw this selection of the 15 Best Campsites in Europe from 'PureWow.com'. There really must be thousands of camp sites around Europe to choose from so Portsalon Luxury Camping must have stood out in their search! Why not try us out during 2020 to see what you think?
Sublime
Listen to these words from the Irish Times – "Sitting in the summer gloaming, with spectacular panoramic views of Lough Swilly, Mulroy Bay and the Inishowen Peninsula, the sublime feels very much within reach". They are right – some evenings guests really are treated to a truly sublime experience. Mystical, magical and other-worldly.  And once again there it is – the stunning image of our largest yurt (Mulroy yurt) which is selected as the feature image for the article from the 50 listed – way to go Paul McGuckin!
50 Amazing Places to Stay Around Ireland – from Caravans to Castles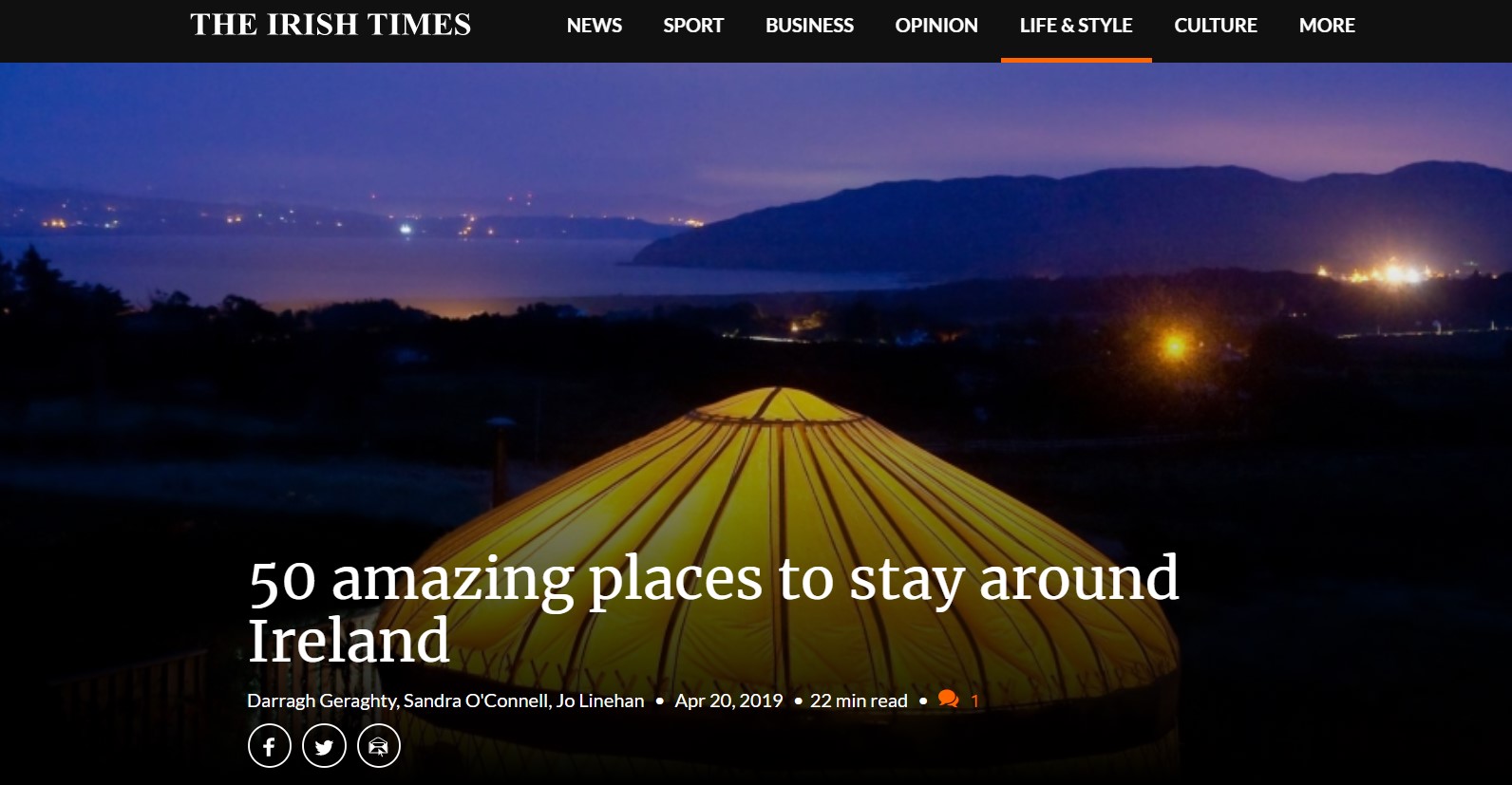 The Irish Times – 50 Amazing Places to stay around Ireland
A World away from your typical tent
Here, Ireland.com list the most unique accommodation to be found around Ireland.
A real getaway from it all
The Best Glamping in Ireland
We are really pleased about our inclusion in this list of eco-friendly glamping spots around Ireland. During the past year we have increased our emphasis on environment and encouraging biodiversity on our site. The option is now available for anyone who books accommodation to purchase a tree at check-out (we will plant it on the site – you can see it on arrival). We are active members of a range of organisations including Birdwatch Ireland, Butterfly Conservation Ireland, Fanad Coastal group, Leave No Trace, the Shark Trust – to name just a few.  Recently we have signed up to the National Pollinator plan and have taken many steps to encourage wildlife. Most guests will testify to the humming hedges and the early morning birdsong that are heard here through spring and summer!
The perfect way to end day four of your five-day road trip in Donegal.
Ireland before you Die is full of great tips and itineraries. This road trip – Donegal in five days (an EPIC road trip Itinerary) is well worth checking out and we are delighted to be included in the trip – why not try it out in 2020 – a great adventure!
We are very proud to have received such good press in 2019. We hope that it might encourage you to come and try us out for yourselves in 2020! Looking forward to meeting you soon – head over to our booking pages to check availability for the new season. We open on Good Friday – April 10th 2020.