"Best night's sleep we ever had!"
These are the words of a guest who recently stayed at Portsalon Luxury Camping.  We began welcoming guests to our beautiful rural retreat in 2014. This is a phrase which we have heard echoed many many times.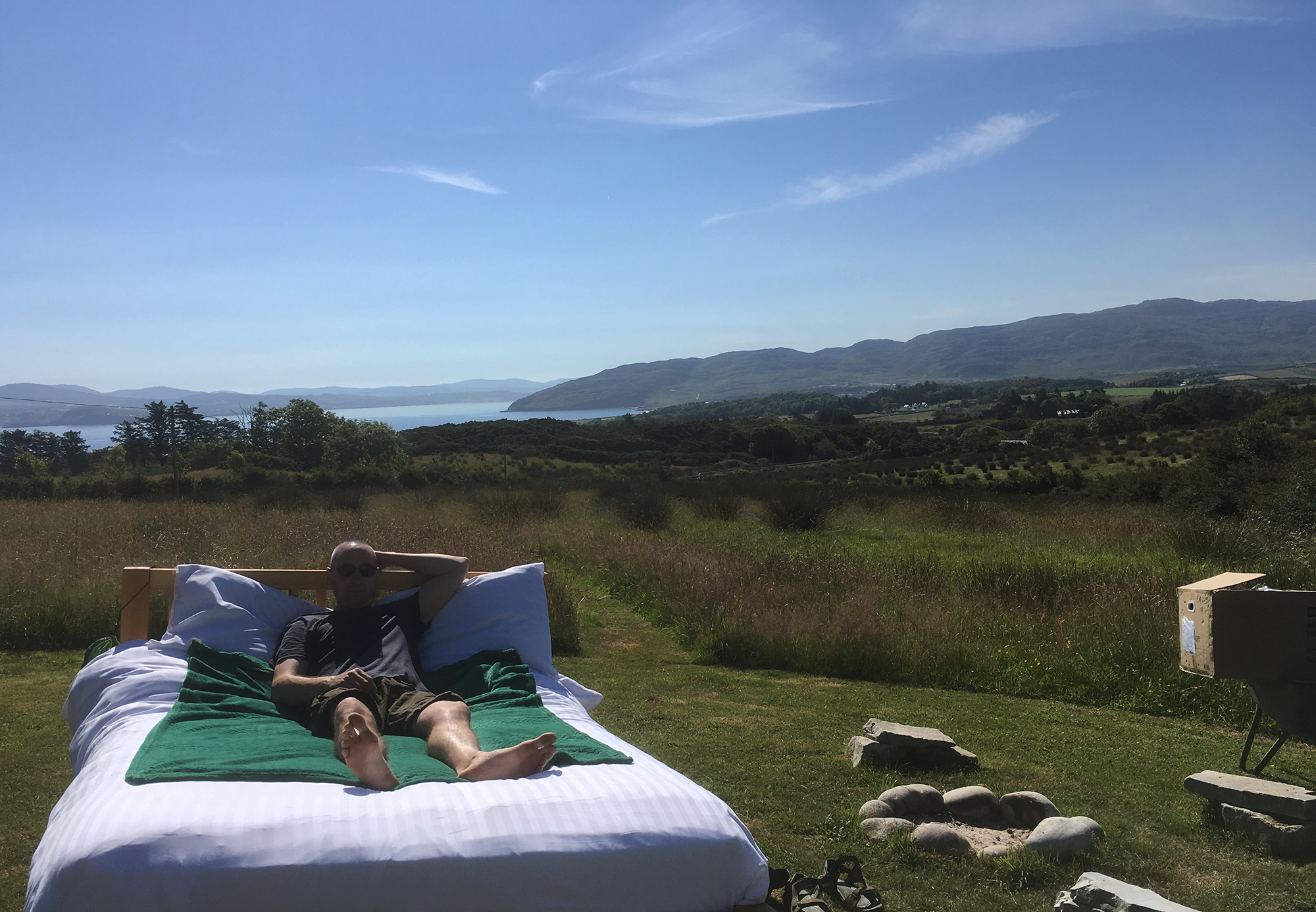 What is it that makes our yurts conducive to a great nights sleep?
These days advice abounds about how to sleep better. There are so many Apps available to help us to monitor our sleep patterns. They encourage us to adopt good sleeping behaviours. We can download sounds to listen to as we try to drop off. There are scents and aromas to help lull us into dreamland. We might buy the perfect bed, the ultimate mattress, the essential pillow, the best duvet ever. We may seek chemical based medications or natural remedies.
Yet still sleep can elude us or wakefulness can haunt us throughout the night. Intrusive thoughts, looped worries, persistent anxiety. We worry about what we said or did through the day. Perhaps we worry about tomorrow.  Maybe we reach for our smartphone to check the time and find ourselves scrolling, scrolling scrolling. Now it is 4 o'clock in the morning – still we cannot sleep and an earworm inserts itself into our mind. So it goes on!
But what is the answer?
There is of course not one simple answer to insomnia and difficulty sleeping. Most of us have experienced it at some point in our lives and some of us struggle with it endlessly. The literature and research into sleep is extensive but the upshot is pretty straightforward – we NEED a good night's sleep and we need it every night if we are to remain healthy and to thrive physically, mentally and emotionally.
So, let's keep it simple and look at what we have here at Portsalon Luxury Camping which can offer sleeping salvation.
Nature heals
"We loved being so close to nature, to wake up with birds and breathe such fresh air"
Portsalon Luxury Camping is located on a hillside in rural, coastal Donegal. The site has seen minimal intervention over the last decade (and zero chemicals). Wildlife is thriving because of this. The fuschia/hawthorn hedgerows are buzzing with life and the sounds that you will normally wake up to are birdsong, the gentle hum of bees in the hedges or the distant lapping of waves on the nearby Ballymastocker strand. These are the sounds that so often are simulated for aiding sleep but we cannot recommend the real deal enough!
Lie back and relax and listen to the sound of nature. There is no need to burn oils which emit the scents of nature, the perfume in the air from lavender, fuschia and buddleia is real. The woodsmoke from the stoves takes you right back in time and evoke memories of times past. Immerse yourself in nature and a simple life.
Switch off
"You have created the perfect place to disconnect and reconnect – so good to switch off for a while"
How many times do we need to be told to reduce our screen time and limit our exposure to social media, news and the relentless stream of information which pours through our devices?
A break in rural Donegal really is the perfect time and place to turn off your devices and forget about the outside world.
Our yurts do not have electric connections* so the urge to plug in is often over ridden by a desire to lie in the hammock and read a book! We have a book swap library in our communal area with a great range of reading material from easy read bestsellers to books on eco-building and vegetable growing (and even build your own yurt!). There are board games for you to take away and play – when did you last enjoy a great game of Jenga, Scrabble or Dominoes? Relax, unwind and enjoy simple and uncomplicated entertainment with your loved ones.
(* please don't get anxious about the lack of electric connection – you are provided with your own private lockable cabinet with electric points in our communal area – and there is a Wifi connection if you really need it!)
Eat to sleep
"We loved the great fresh salad from the garden – it even had edible flowers – delicious!"
What food and drink promote good sleep and which inhibit sleeping?
Most of us know don't we but don't always act on what we learn. The general advice is to cut down on sugar, processed food, caffeine and alcohol. We should aim for plenty of fresh fruit and vegetables and plenty of water to stay hydrated.
Portsalon Luxury Camping is a self-catering site. Whilst staying, however, you are welcome to make use of the herbs and ingredients grown in the little organic garden.
Whilst staying perhaps you would like to swap the big fry for a poached free-range egg. The rescued battery hens on the site lay daily and guests are always welcome to avail of them. The antics of the cute hens are so entertaining too! (Laughter promotes sleep too. Google it!)
You could swap the side of greasy chips for a fresh salad. The lettuce and leaves in the garden are 100% organic and streets ahead of any salad you will buy in a supermarket.
The water that you drink whilst staying with us is the best and the purest that you can find. We have our own well bored on the site so the water is fresh spring water. It is double filtered for your safety and comes out of the tap pure, fresh and chemical free. Water like this is a rare commodity!
Health food shops and supermarkets have plenty of teas to aid sleeping. During your stay you could try a fresh herbal tea made from lemon balm or fennel? Lemon balm is well-known to have sedative qualities. It relieves anxiety, soothes agitation and thus promotes sleep. This herb is prolific around the site. Fennel has muscle relaxant qualities and was used in ancient remedies for treating insomnia. It is also plentiful around the garden.
Spend time together
"The perfect little retreat for our honeymoon. You have an incredible set up here. Amazing spot!"
Whether it is your honeymoon, a birthday, an anniversary or your summer holiday, Portsalon Luxury Camping is a fabulous place to spend true quality time with your loved ones. Time slows down when you eliminate the distractions so that you can really enjoy each others company.
The daytime can be spent exploring the beautiful, rugged and unspoilt Donegal coastline. Miles and miles of beaches await for you to stroll along and feel the wind in your hair and the perfect white sand beneath your feet. It's not unusual to spot dolphins and seals basking in the perfect waters around the peninsula.
Enjoy a drink in the snug  Olde Stores Bar sitting in front of a roaring log fire. End your day relaxing together around a camp fire gazing up into a clear bright night sky counting the shooting stars and making wishes together. If the weather doesn't allow for the outdoors fire no problem – relax inside your cosy yurt listening to the wind and the rain embrace you as you stay warm and cosy in front of your woodburning stove. Slow down, relax and just be together. Don't wait to be entertained – entertain each other.
Breathe easy and exercise
"We were welcomed with open arms and slept like babies in the yurts. An intensely satisfying stay"
So you want to 'go out like a light', 'sleep like a baby', 'fall asleep as soon as your head hits the pillow'? Then what you need is to be tired – really really tired – but it needs to be physical as well as mental. So often the demands of daily life leave us feeling mentally exhausted but this doesn't really help us to sleep – it can feed our insomnia with anxious thoughts and worry.
The environment of a rural setting like Fanad, Donegal, really lends itself to getting out and getting active. Instead of walking along the beach how about running along it? How about hiking up Knockalla mountain instead of looking at it? Rather than gazing out to sea why not take a dip or better still try out surfing? I defy anyone to take a two hour surf lesson in the Atlantic ocean and then struggle to get to sleep!
The combination of fresh clean unpolluted air plus a few hours of physical activity is normally enough to make anyone feel drowsy.
Relax and dream
"Our souls and spirits are nourished, light and calm from being here"
At the end of a long, exciting and invigorating day it is time to wind down and prepare for a great nights sleep.
Remember the advice we often ignore – no TV, no news, no screens, no alcohol, no rich food?
How about sitting around a little campfire looking out over the atlantic ocean? Mug of hot chocolate in hand (a dash of brandy perhaps – who wants to follow ALL the rules!). Toasting marshmallows and reading a story from "Celtic Fairy Tales" from our bookshelf. Or laying between the crisp white sheets in your king size luxury bed inside the yurt. Gazing at the twinkling fairy lights and pondering what adventure you will have with the love of your life tomorrow. Life is good and gentle dreams await you.