Exploring the Magic of Donegal – Best in Travel 2024
Donegal is amongst top ten places to visit in Lonely planet best in travel 2024.
Every year, travel enthusiasts eagerly await the release of Lonely Planet's "Best in Travel" list, which highlights the most enticing destinations around the globe.
To the delight of the tourism providers of the North West of Ireland, the County of Donegal has taken fourth place amongst the best regions in the World to visit during next year. Get it on your holiday wish list now – Donegal has now become one of the must-visit destinations of 2024!
"With the longest coastline in Ireland and more than 100 beaches, you may find yourself the only person on a deserted strand in Donegal. The northernmost Irish county is purely wild with a big heart.  You'll find the highest sea cliffs in Europe and miles of unspoilt coastal hiking trails along the Wild Atlantic Way. Ancient forts, musical traditions and rich heritage of the Irish language also make it perfect for the curious visitor." (from Lonely Planet website)
The top ten regions are as follows:
The Western Balkans' Trans Dinarica
Kangaroo Island's Cycling Route in Australia
Tuscany, Italy
Donegal, Ireland
País Vasco in Spain
Southern Thailand.
The Swahili Coast of Tanzania
Montana, USA
Saalfelden Leogang, Austria;
Far north of Scotland
Where is Donegal?
For those not familiar with Irish geography, Donegal is located in the northwest of the Republic of Ireland.  It is bordered by the Atlantic Ocean to the west and the North Atlantic Drift  to the north.  Donegal is renowned for its rugged coastlines, unspoiled landscapes, and pristine beaches. It's often described as a hidden gem in a country known for its stunning natural beauty.
Our advice to you as you plan your trip is to take your time – Donegal has 1,100 km of coastline. It is a huge county with slow rural roads and so many small villages and Islands which deserve your attention. Even with all of the technology at your finger tips you are likely to get lost. Don't panic, just stop and ask a passerby for directions – no one is in a rush in this part of the world and they will certainly have time to point you in the right direction! Slow down, relax and take in the scenery as you explore. Enjoy a slower pace of life.
Check our directions to Portsalon Luxury Camping here.
The Lonely Planet Endorsement – Best in Travel 2024 – Donegal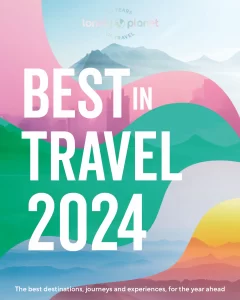 Being named as one of the best regions in the entire World to visit by Lonely Planet is a significant honour. Lonely Planet is a globally recognised travel guidebook publisher. Their recommendations hold great weight among travellers. Each year, they meticulously assess destinations based on various criteria, such as uniqueness, cultural significance, and the overall experience offered to visitors.
Donegal's selection is a testament to the region's charm and its potential to offer an exceptional travel experience. This endorsement brings a very well-deserved recognition to this part of Ireland. Donegal, while beautiful, has often been overshadowed by its more popular and better known counterparts.
One of the primary reasons Donegal received this prestigious accolade is its breathtaking natural beauty. The county is a haven for nature lovers, hikers, and adventure seekers. It's a place where dramatic landscapes meet the raw power of the Atlantic Ocean.
We recommend the Irish Road Trip –  as a wonderful resource for planning your trip. With County guides, suggested itineraries and links to accommodation providers, it offers a no-nonsense and thorough information base for a visit to Ireland or a specific County. Following the Lonely Planet 'Best in Travel' accolade, we hope that you will choose Donegal for your 2024 holiday!
Wild Atlantic Way
Donegal is a significant part of the Wild Atlantic Way, one of the world's longest coastal driving routes. Stretching for over 1,500 miles along Ireland's rugged western coast, this route offers a scenic journey filled with towering cliffs, secluded beaches, and charming coastal villages. In Donegal, you can experience the untamed beauty of the Atlantic coastline. Waves crash against towering cliffs and wind-swept vistas take your breath away.
You can plan your route here with information on all of the signature discovery points along the way and great planning maps
There really is no shortage of things to see and do in this amazing unspoiled county.  Come and explore – you won't be disappointed.
Top Tips for your Donegal adventure – Lonely Planet Best in Travel 2024
You can never do it all or see it all in one trip. Here are Sean and Helen's (Portsalon Luxury Camping – Fanad, Donegal owners)  top seven recommendations for your holiday.
Donegal is amongst top ten places to visit in Lonely planet best in travel 2024 so use the recommendations below to help plan your visit.
Fanad Lighthouse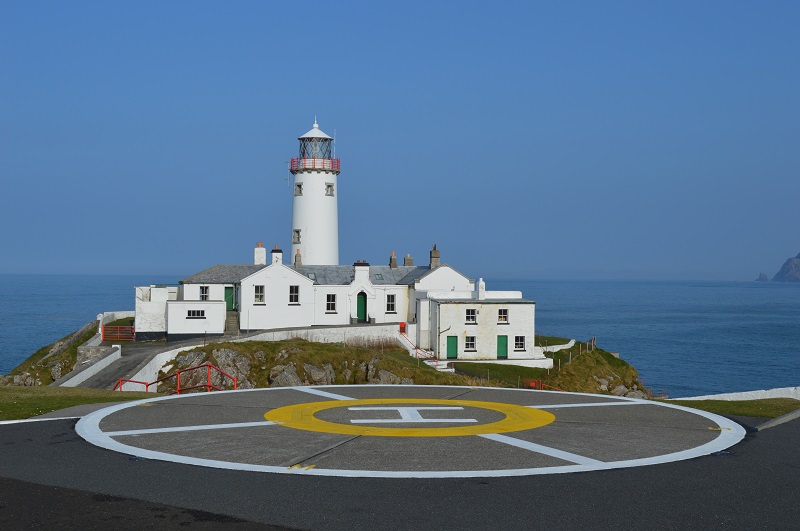 A trip to Fanad is not complete without a visit to this iconic Lighthouse. "Step back in time, hear stories about light-keepers in days gone by and climb to the top of tower for spectacular views of land and sea." (Fanad Lighthouse website) Be sure to visit the lovely little cafe for a coffee or icecream and browse the shop for a souvenir of your trip. Maybe you would like to take home an item of seaglass jewellery hand made by Helen of Portsalon Luxury Camping. She also runs Donegal Seaglass in her spare time. Just a little piece of Donegal!
      2. Slieve League sea cliffs
These cliffs really are awe inspiring and not to be missed.
"Rising almost 2000 ft / 598 m from the Atlantic Ocean, Slieve League is known as one of the highest sea cliffs in Europe. There is no doubt that it is one of the most magnificent views in Ireland.
Slieve League is almost three times the height of its Clare cousins, the Cliffs of Moher and whilst standing at the viewing point on the Cliff an amazing sea vista and landscape opens up before your eyes. From this point you can see across Donegal Bay to neighboring counties Leitrim, Sligo and Mayo. When looking out to the west the view is of the vast Atlantic ocean as far as the eye can see. From the North West you will be able to see Rathlin O'Byrne Island and Glencolmcille. At the base of the Cliffs you need to look out for the 'Giants Desk and Chair' which is a key part of history." (Slieve League Cliffs Centre website)
      3. Grianán of Aileach
Grianán of Aileach is a renowned and incredible monument located in Inishowen. It is perched atop a hill 250 meters above sea level. From the stone fort of Aileach, the vista is truly awe-inspiring.  Aileach's elevated position provides a breathtaking perspective, offering clarity in the sight of the sparkling waters of Lough Foyle and Lough Swilly. With its exposed and windy location, Grianán has silently borne witness to Ireland's rich history. The origins of the Grianán of Aileach fort are dated back to 1700 BC. It is linked to the Tuatha de Danann who invaded Ireland before the Celts and built stone forts on top of strategic hills. They worshipped Dagda (the Good God). Dagda is associated with the origins of Aileach having ordered the building of a stone fort to act as a burial monument to his dead son.
     4. Sunrise swim at Portsalon
The Ballymastocker Strand is one of Ireland most stunning beaches. The beach was once was voted the second most beautiful beach in the World by readers of the Observer newspaper (beaten only by a beach in the Seychelles). A trip to Donegal will not be complete without checking out this fabulous long sandy beach. We absolutely recommend that you go one step further than a stroll or a photo shoot from the Knockalla viewpoint and take a dip in the sea. If you are an early riser, dip at sunrise if the weather is on your side but even on a rainy day, the water is exhilarating and rejuvenating.  You won't regret it! Warm up afterwards with a hot drink and snack at the award winning Bistro and Coffee house, The Narrow Quarter in Kerrykeel.
     5. Glenveagh National Park
Glenveagh National Park in Donegal, Ireland, is a captivating natural wonder that beckons visitors with its pristine landscapes and rich history. Spanning over 16,000 hectares, this park offers a diverse range of attractions, from its enchanting gardens to the rugged Derryveagh Mountains. The centerpiece is Glenveagh Castle, a striking 19th-century edifice surrounded by lush gardens. Nature enthusiasts can explore serene lakes, dense forests, and observe rare wildlife like the golden eagle. Hiking trails wind through dramatic terrain, providing stunning views of the park's rugged beauty. Whether you're seeking tranquility, outdoor adventure, or a glimpse into Irish history, Glenveagh National Park is a must-visit destination. If you prefer a slightly quieter experience than the much visited Glenveagh, you could try the nearby Ards Forest Park which is also one of our firm favourites.
     6. Climb Errigal
Climbing to the summit of Mount Errigal  is an unforgettable adventure that offers breathtaking rewards. As the highest peak in Donegal, it stands at 751 meters, presenting a thrilling challenge for hikers. The journey takes you through a captivating, otherworldly landscape of heather-clad slopes and rocky terrain. Upon reaching the top, the panoramic view of the surrounding rugged landscapes and glistening lakes is truly awe-inspiring. Errigal's iconic quartzite cone is a sight to behold, and the sense of accomplishment at the summit is worth the effort. Take a picnic and soak up the view.  This climb is a must for nature enthusiasts and those seeking a memorable outdoor experience in Ireland.
     7. Kayak Tour – Portsalon Caves
Discover the breathtaking Fanad Peninsula coastline with a captivating 2-hour kayak tour with Eco Atlantic Adventures.  Kayaking is the only way to truly experience the coastline's splendor! Immerse yourself in the beauty of the area as you explore the enchanting Portsalon Caves, remarkable Sea Stacks, and secluded Hidden Beaches. This tour is perfect for beginners and families. Hugh and his team are expert at taking care of you whatever your level of experience. It is comfortable sitting on the sit-on-top kayaks. Book ahead – these tours are very popular during peak season. Pop into the Stores bar on Portsalon Pier afterwards for a well earned drink.
Plan your trip now – Donegal Best in Travel 2024!
So, get planning for 2024 and don't forget to book your yurt now as demand is going to be high!
Don't forget Donegal is amongst top ten places to visit in Lonely planet best in travel 2024 – make sure that it is top of your holiday bucket list.