Sustainable glamping
Living the Dream – an eco-lifestyle business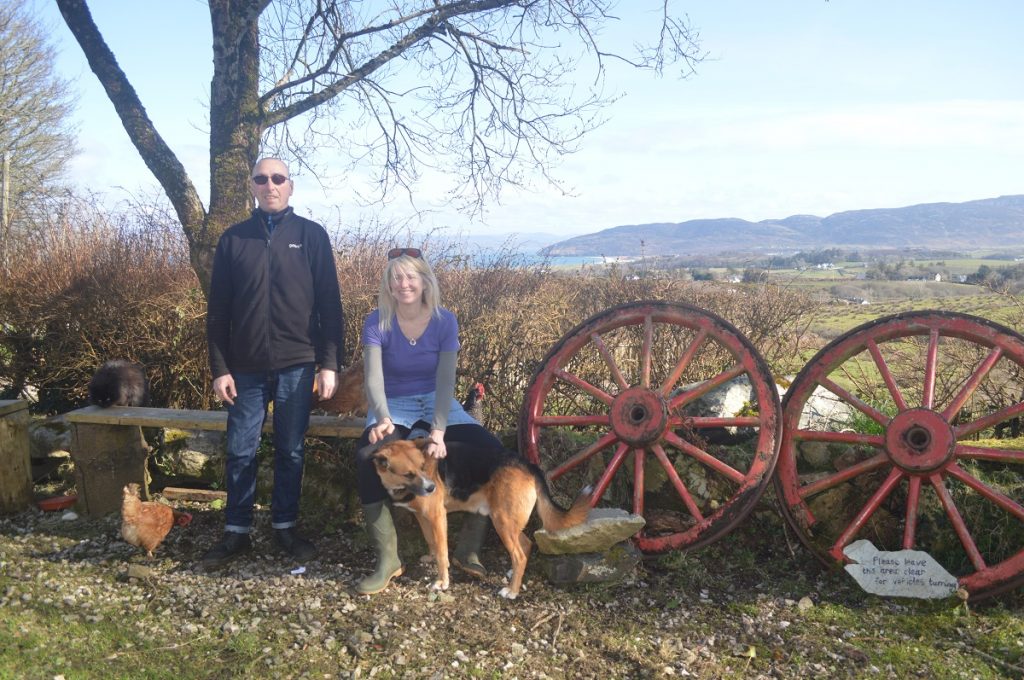 Sean and Helen Coll operate Portsalon Luxury Camping as an eco-lifestyle business. They offer sustainable glamping. For them, work and life is entwined together and at the heart of both is a love and passion for the natural world. They love what they do and they do what they love having left behind faster paced commuting city lifestyles.
They live in their lovingly restored original vernacular farmhouse on the campsite. The house was built in the early 1900's by Sean's Grandfather. His Dad and uncles and aunt were all brought up in the house. It has a great feeling of strength and safety on the beautiful windswept hillside of the wild and remote peninsula of Fanad in Donegal.
Sustainability in action
The camp site is an integral part of their environmentally focused lifestyle. Sustainability is at the heart of all that they do. Their basic principle in work and in their daily life is to do no harm to the world around them. They plant trees and pollinating plants around the site, avoid chemical use. They grow their own vegetables. Helen adopted a vegetarian lifestyle as a teenager and Sean has been mostly vegetarian for many years. They keep their own hens which started their lives in battery farms but have been rehomed by Littlehill Farm and Rescue.
Reduce, reuse and recycle has been part of their lives for all of their lives. Both were brought up in the 70's with the 'Waste not want not' and 'Make do and mend' philosophies. Their Mum's taught them to sew to repair their own clothes. Before they took the plunge into self-employment Helen sewed a yurt for them to live in as a trial run – they loved it so much that it was their home for eight months!
Life, for Helen and Sean, is not about acquiring more money or possessions but about finding happiness and joy in the day to day. They are frequently asked when they will be putting up more yurts and making the site bigger and better. As they stroll on the beach in their lunchbreak or gaze up at the perfect night skies after a busy day chatting to interesting people from around the world they often ask each other 'how would bigger be better than this?'